Two men were slapped with two years jail imprisonment for attempting to support the Islamic State movement. Mohd Syafrein Rasid and Mohamad Yusoffe were arrested at the KL International Airport while trying to leave the country to join IS in Syria. The duo were about to board their flight via Qatar Airways when they were nabbed at the spot.
The IS are trying to promote their fight using social media sites such as What'sApp chat rooms and the facebook. What'sApp has chat rooms called 'Jihad Fisabilillah' and 'Melancong2'. These low life IS are trying to use devious ways to increase their members and what's more interesting is that 'melancong' means travel and the IS are using this word as a bait to lure the unsuspecting people who are interested to do tours to join their mission. Little did they know that the people behind this whatsapp group are a bunch of merciless murderers who justify their act by hiding behind religion?
Image above: The two IS saviours who will now be busy counting the bars
It was told that these duo were looking for references from the internet and social media sites about the Muslims' struggles in Middle East and Africa which prompted their interest in the religion until they were coaxed by some netizens who succeeded to influence them to join along with the other IS supporters.
DPP Wan Shahruddin urged the court to give a heavier punishment. He said, "A deterrent punishment is needed to prevent fighters and future fighters from going to Syria and become national threats when they return home and become lone-wolves and commit violent acts" he told.
Image above: While Islam preaches that Islam is brotherhood, these terrorist are using the same religion to roast people alive
And while 'Satay' is a favourite local dish, which is grilled chicken or rabbit meat these IS are literally killing people in barbeque fashion. What price, religion? Can these people digest if someone does the same to their family members or loved ones?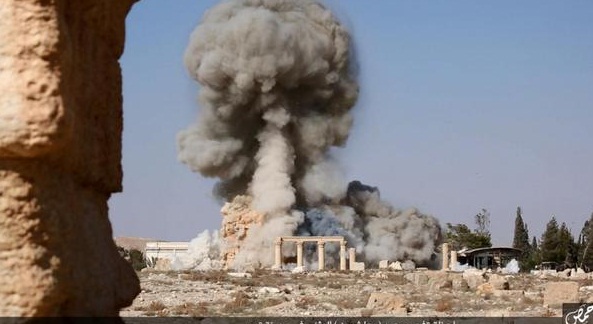 Image above: A historical site becomes the victim of Islamic State affairs vandalism. These acts of vandalism are worse than the street graffiti art. Graffiti can be washed or repainted but these bombed sites cannot be brought back or time reversed.
These two clowns pledged their support and willingness to die as a martyr for IS sake. Selling their lives for a promise of virgins in the heaven? Why not try the nearest brothel if sex is what is required? I do not understand why people keep supporting these terrorist knowing the damage they are doing. These mindless fools are damaging historical sites in the name of religion namely the Palmyra. I for one do not practice the religion endorsed by the Palmyra's but still appreciate the site for its richness and historical values to mankind but not these goons.